Ara Gevorgyan performed at a charity concert dedicated to the 10th anniversary of the Pan-Armenian Fund held at the MGM Grand Arena in Las Vegas.
Ara Gevorgyan co-operates with Armenian and foreign famous musicians and singers- Jivan Gasparyan, Hasmik Leyloyan, Armen Anassian, Flora Martirosyan, Elvina Makaryan, Suzan Margaryan, Ian Gillian, Demis Roussos, Pedro Eustache, Walter Rodriges,Daniel Decker, Malik Bend(Odessa) and others.
One can hear Ara Gevorgyan's music in number of films("Qrmuhi","Khnkarkum","Yar khushta", etc.), performances("Bari galust","Krunkner et dardzek" ,etc.), during various worldwide sportive events (figure skating, callisthenics, etc.).

Ara Gevorgyan is a son of
Valya Samvelyan
- a famous singer of Armenian folk and popular songs and he is a producer of Valya Samvelyan's
"Toghetsir indz menak" (You did let me alone) , "Anushik im quyrik" (My sweet sister)
albums, "Valya Samvelyan" DVD and the book " Our Valya Samvelyan".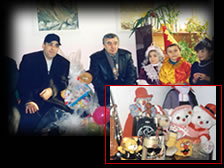 Hobby
- has a big collection of toys.
During his concerts Ara gets many toys. His granting these toys to kindergartens has become a nice tradition.
Two kindergartens of Yerevan (N97, N140, N175 and N202 boarding kindergarten) have already received a great number of toys.
In the 2003, 2007 Ara Gevorgyan presented part of his collection of toys to the "Prkutyun" Rehabilitation Center of Disabled Children and "Orran" charitable public (non governmental) organization.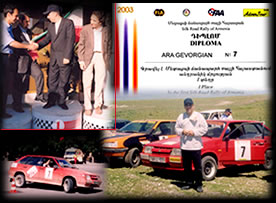 On the initiative of the "AdvenTure" club the first international
rally "Metaksi Chanaparh" ("Silk Road")
was staged on June 7-8, 2003 in Armenia. Both professional and amature racers participated in the competition from all over the world.
Ara Gevorgyan and Sargis Tashchian (navigator) participating in the competition for amature drivers emerged as winners of the race.
The winners received the
diploma and a prize
for the first place during the awarding ceremony held on June 9.
Special thanks to "Shant" company for their sponsoring.


Married, has daughter and son.