Revolution in Armenian music
(the power of Ara Gevorgian's art)
Dear Ara
, your music is real Armenian, clear as stream water and be sure that your music will conquer world stages...
Henrik Anassian, conductor, composer

Ara Gevorgian
was the first in Armenia to combine Armenian folk instruments, with electronic instruments, symphony orchestra and choir.
Sergey Aghajanian, composer

I have worked with many musicians of the world, but
Ara Gevorgian
remains original for me by his creative taste and style. It is very easy and pleasant for me to cooperate with him.
Jivan Gasparian, musician

When you look at
Ara Gevorgian's
score, it seems that there are very few notes there, but when you listen to its living sounding, it sounds very rich and charming.
Ruben Asatryan, conductor

Ara Gevorgian
, one of the pioneers of Armenian New Age music, presented his best works in the tradition of fusing Armenian folk and classical tunes with modern rhythms.
Ara Gevorgian's
musical art is going to be the one of the heavenly intangible pipes and with his help Armenian music will secretly move to the 21st century.
Sona Van

Ara Gevorgian
seems confident that he has already established himself as prominent in his genre. His music encompasses all musical traditions in order to produce a fusion of Armenian music and contemporary influences on an almost epic scale. Jean Michel Jarre and Mike Oldfield come to mind when trying to identify comparable artists in west.
Onnik Krikorian, "The Armenian weekly", (London) October 9, 1999

The story of the one song...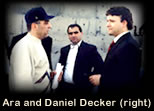 ...While on trip in Armenia, Daniel Decker heard an instrumental "Moosh", by Armenian composer Ara Gevorgian.
"I told my wife that I want to write words to that song," Decker says.
Because Decker was interviewed on that TV show, his measure of fame allowed him to track down and meet with Gevorgian.
The composer told him to go ahead and take a stab at writing lyrics.
Decker wrote lyrics about the story of Noah, the biblical ark-builder who landed at Mount Ararat. He called it "Noah's Prayer."
He sang it to Gevorgian over the phone.Gevorgian loved it so much, he invited Decker to perform the song in concert on the First Armenian Republic Day.
So, on May 28, Decker sang the song in an open air concert in the city of Sardarapat, with Ararat looming in the background.He was accompanied by the 100-piece Armenian Opera Orchestra.More than 3 000 people were there, including Armenian president Robert Kocharian.
After the concert, people were applauding.They surrounded him.They wanted his autograph...
Now, he plans to work more with Gevorgian, whose music Decker describes as
"Like Yanni."
"The Post-Standart/Weekend" (USA) June 14, 2002

On June 9 the sounds of Ara Gevorgian's music created a magic world, which took the audience to their historical roots.
"Horizon", (Montreal) , 2002

He explains "Artists may have sung in our language, but the music most definitly wasn't Armenian. Our national musical tradition began to disappear."
As a result, after the 1988 earthquake, Gevorgian tried - and he believes succeeded - in provoking a revolution. He wrote a modern arrangment of duduk music that he says is still used today by the dance ensembles:National Armenian Dance Ensembles - State Dance Group (Armenia), "Krunk"(Armenia), "Barekamutyun"(Armenia), "Nairi"(USA), "Tavigh"(USA), "Zvartnots"(USA), "Ani"(Canada) and others.
"TV & R", April 2, 2000

Armenian young people love duduk today.
Says Ara Gevorgian

"Azdak", Lebanon, 17 May 2004

Highly original but national Ara Gevorgian with his charming art.

"Zartonk", Lebanon, 13 May 2004

Le patrimoine musical armenien revisiite

Lebanon, 10 May 2004

He inherited the love and great devotion to music from his mother, well-known singer Valya Samvelyan...

"Hogu chich", N 100, 2002

Revolution in Armenian music
(the power of Ara Gevorgian's art)


Ara Gevorgian's current album "Ani" was released in January and the 10,000 CD's have apparently sold very well. Not only has music from album been used in films:
"Armenian people history" producer - Endru Golberg, "Dolls" Georgian producer - Gary Kuntsev.
"Noyan Tapan", 2000