THANK YOU GOD!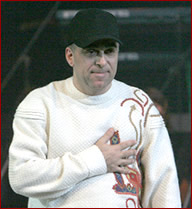 I wish to express my sincere gratitude and deep appreciation to all the musicians and creative people who have collaborated in the past and are still working with me today.
I want to thank all my friends:
Tigran Ishkhanov & Hambartsum Danielian, Nika Babaian, Sukias & Andranik Torosians, Hrachya Mushegyan, 3 Alik, Ruben Asatryan, Martin Vardazarian, Ruben Amirbekian & Yervand Yerznkian, Levon Ivanyan, Anahit Gapoyan, Asadour & Betti Hadjians, Harry Minasian.
USA - Vardges, Ishkhanuhi, Vahe & Sona Petrosians, Vartan & Susanna Haroutiunians, Hrair, Gagik, Lena & Sona Hovhannesians, Marina Khalatyan, Marina Manukian, Vardan & Armine Aghajanyans, Vardan & Siranuysh Gevorgians, Piter Pahlevanian, Alfred Nazarian, Manuk Adamian(Siamanto), Noubar & Anna Afeyan and Raffi & Nina Festekjian(YerazArt), my broder Arkady and his family and others.
Thanks to Haygaram Karasu, Chakir, Herman Hintiryan, Celta Iskenderoz, Irma Polat, Pan Armenian Games Istanbul Committee, Mihran Ucikyan, Tikran Karagozyan.
Thanks to
Hasmik Hakobyan
who created this web site.
I also would like to thank all my close friends:
Hovhannes Melkonyan, Hovsep Samvelyan, Aram Arakelyan, Sargis Tashchyan, Gagik Simonyan, Seryan Ghiasyan, Sergey Babayan, Ruben Nersisyan, Karen-Varda, Tagvor-Maral and their families who are always beside me...
Thanks to All Armenian TV channels:
Public TV, "Rubicon+" TV program: Erik & Iza

Armenia TV

3-th channel TV:Elmira Arsenyan, Artavazd Eghoyan, Karen Kocharyan

Sharm" Company

Shant TV

H2 TV

Yerevan TV:Manvel & Yura Gharbinyans

ATV TV

AR TV

12 TV

Dar 21 TV

Erkir Media TV

Shoghakat TV

All Radio Channels, Record Studios and Press

SPECIAL THANKS TO

:

Sargis & Suzanna Berberyans, Annassian family, Shahe Khachaturian & Hagob-Sevag Serobyan (Beirut) , Pedro Eustache, Robert Nazaryan, Vanush Torosian, Aida & Abraham Manoukians, Manvel & Yura Gharibyans, Manvel Ter-Arakelyan, Artur Aleksanyan, Vachik Ghazaryan, Arik Khachatryan. Ara Abrahamyan, Tigran Arzakantsyan, Majak Ohanyan (Istanbul), Gazaros Unan (Istanbul), Metso Igitjan. I AM GREATEFUL TO MY MOM VALYA SAMVELYAN AND MY FAMILY
THANKS A MILLION...

| | |
| --- | --- |
| Ara Gevorgian | |